Reforms Mallorca - Meet Klausworks
Specialists in total renovation in Palma de Mallorca. You can rely on us to renovate your property so you can get the best use of it to meet all your needs.
It's time to have your home just the way you want it.
Contact us and we'll offer you the best solution to suit your house or flat. We will capture its essence and make it into something unique that is totally right for the way people want to live there. You can benefit from our advice throughout the process, as well as a set budget and timescale.
Are you looking for a renovation company in Mallorca to make the home of your dreams a reality? Klausworks can give you the solutions you need. We've all dreamed of transforming a space, and we know it isn't easy to make a project turn out the way we visualise it. When you work with us, we guarantee a professional team of renovation and interior design experts.
Our goal is to meet each client's expectations and needs exactly.
We adapt to your needs and lifestyle to create a perfect balance of practicality and current trends in decoration to suit your home and its setting. We are proud to say that our clients can trust us and never have to worry about any aspect of the project.
Our commitment goes beyond a simple commercial relationship: we advise you from start to finish on finding the ideal solution for you.
Full home renovation in Mallorca
Our full renovation projects in Palma de Mallorca are unbeatable value for money. A team of fully qualified technical personnel will work to achieve the balance of function and style that best suits you. We look after everything, from materials and finishes to colour schemes and decorative elements, with exquisite taste in interior design.
We take care of all the paperwork and procedures so you have nothing to worry about as you watch your project become a reality.
Our goal is to improve our clients' lives, building and improving spaces that reflect their taste, where they can feel at home and enjoy a more comfortable everyday life. Once we have started the process of your renovation, all you have to do is tell us what you want: we look after everything else.
Advantages of working with Klausworks
We carry all sorts of remodelling and renovation in Palma de Mallorca, including full renovations, refitting kitchens, renovating flats, terraced houses and detached houses… as well as renovating all sorts of shops, hotels, and businesses in Mallorca.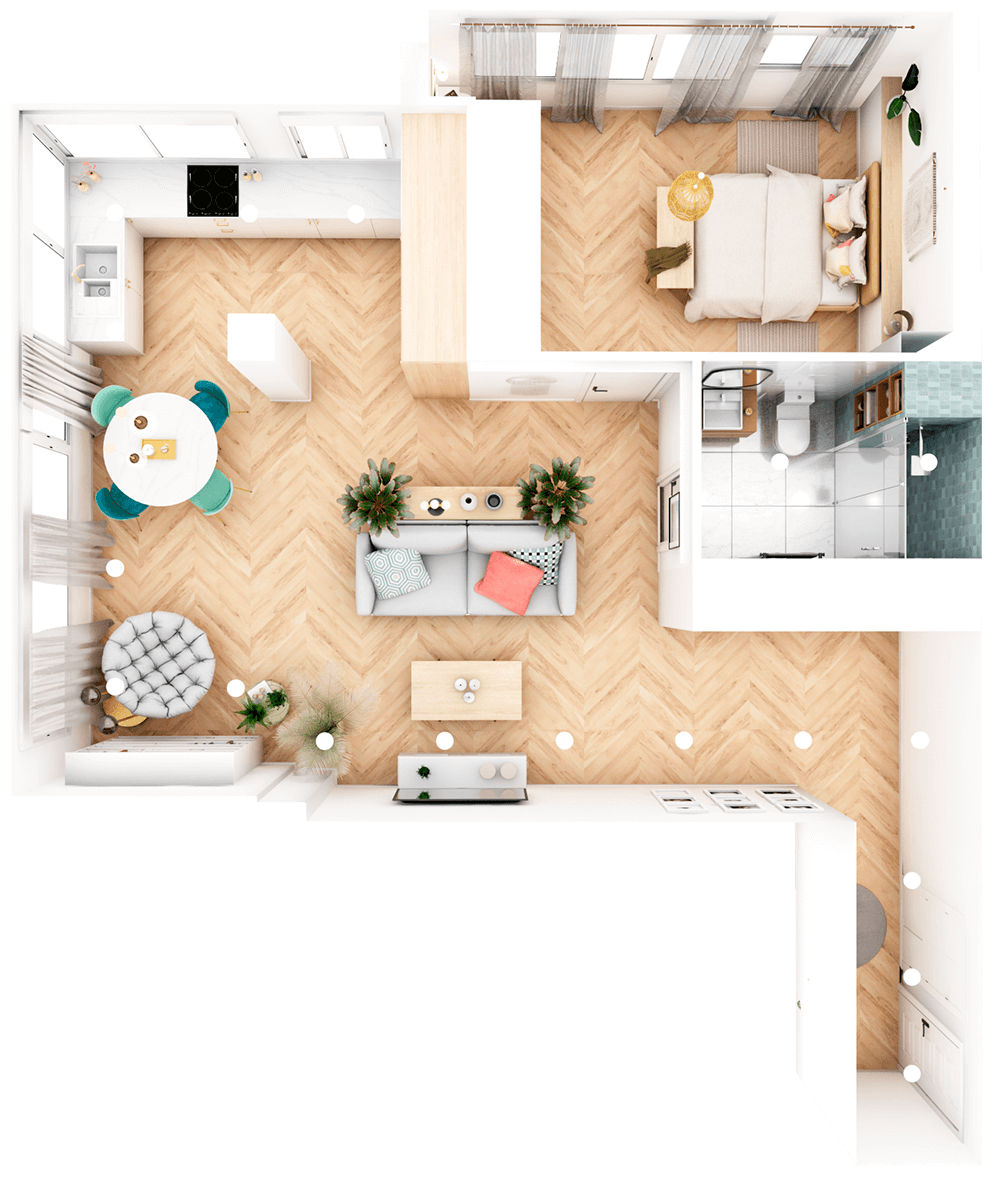 Interior Design Project Before Renovation
A renovation has to cater for all types of people and their different needs. So after a preliminary interview, we offer what best meets your goals.
Some people want to renovate their house and specify every detail, from materials to furniture and decoration. If this is you, the ideal solution is an interior design project in which you can see your renovated home design in 3D before any building work starts.
Other people don't need to see the whole house design in 3D with furniture and decoration, but they do want to see key areas such as kitchens and bathrooms.
And a third type already know what they want, and just need us to show them some new layout options and different materials.
Whichever group you are in, we are always here to guide and advise you through the process, to make sure the final result exceeds your expectations, and that everything comes in under the budget you allocate for your new house.
The Keys to an Interior Design Project

An interview tells us about your tastes and your needs, which will be the basis of the interior design project for your new home.

We will provide several layout options based on your preferences and the possibilities for making your home brighter and more spacious.

Interior Design and Decoration
You can choose from a wide range of materials, depending on your budget, and we will also present suggestions for decoration and furniture.

You can see how your house will look with a computer design before work starts, so you can make informed choices and save a lot of time and money. The result will be just what you wanted.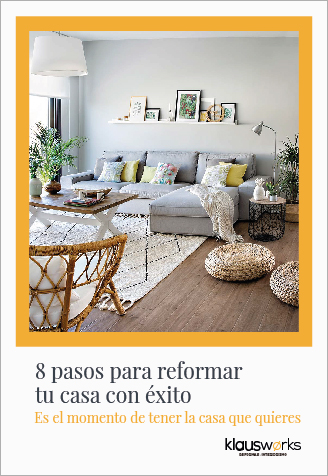 E-book gratuito por tiempo limitado
8 pasos para reformar tu casa con éxito
Flat renovation in Mallorca
If you need expert builders to renovate flats in Mallorca, you're in the right place. Klausworks projects always express the style of the property owner to perfection. But quality means more than décor, and planning for your renovation includes electricity, plumbing, and gas installations.
After all, changing the look of your home is the ideal time to renew everything you don't see and make sure it all works perfectly. We have years of experience in all types of renovation, so it doesn't matter if you have a detached family home, a terraced house, or a small apartment: we offer designs that work with the preferences of everyone who lives there.
Renovation Company Mallorca
Klausworks is your renovation company in Mallorca. We offer complete solutions for the needs of each customer, on every building project, in every space. We begin with the project design and finish by delivering the completed project. And at every stage of the renovation process, you'll know exactly what's happening. One of our values is free-flowing and transparent communication with our clients.
We carry out renovations of offices and business premises, to make them more competitive and attractive, and to renew the facilities. We can help you make your shop or business into the workplace you've always wanted. We manage all the necessary paperwork to make your project a reality. Drawing up a fixed budget and completing stages on time are our differentiating features.
Renovation of Homes and Business Premises in Mallorca
Surprise yourself. You have a unique opportunity to enjoy the space you've always dreamed of.
What are you waiting for?
Full Renovations of Homes and Offices, Refitting Kitchens and Bathrooms
Klausworks are specialists in all types of full or partial renovations for homes and offices, new build housing and turnkey projects.
Reform Kitchen in Mallorca
Kitchen renovations in Mallorca are some of our favourite projects. We design every part of your kitchen to make the most of natural light and maximise your space.
We guarantee an elegant and stylish final result – after all, your kitchen is the heart of your home. We apply the style that best suits your personality and your lifestyle while keeping up with modern trends and high-quality equipment.
Bathroom Renovation in Mallorca
Our work renovating bathrooms in Mallorca means creating unique spaces where comfort comes first. In this part of the home, making the most of the space is even more important. We can advise you on everything, from materials to the layout of fixtures and fittings.
This may be the moment to renew the plumbing, install energy-efficient lighting, or check the central heating is in good condition. We leave nothing to chance. You can relax and rely on us to express all your ideas with the guarantee of our expertise.
Full home renovation in Mallorca
Contact us if you would like a budget estimate for renovation in Palma de Mallorca. Klausworks guarantees the best value for money and we take care of any bureaucratic formalities that may arise, from planning permission to an energy efficiency certificate.
We adjust to get the most from your budget and advise you with total transparency.
We offer renovation in Mallorca at competitive prices, always with top quality materials and equipment. Our commitment to you is formalised in a turnkey contract: we take responsibility for planning and executing the renovation and delivering it on the agreed date. Klausworks aspires to be a benchmark in the building and remodelling sector, guaranteeing your total satisfaction.
Process for Renovating your Home
If you have any questions about the process of carrying out a full or partial renovation of your home, these are the steps we will go through with you, working together to exceed your expectations:

1. We make an appointment
We visit your home so you can tell us what you have in mind, what you would like to achieve, and what you need.

2. Measurements and estimate
We take measurements that enable us to estimate a preliminary budget for the renovation.

3. Interior design project and final budget
We offer you the option of an interior design project, to include every detail of your home, including furniture as well as the building work side of renovation. Or if you have already decided exactly how you want your home, we will adjust the final budget as much as possible to ensure the result exceeds your expectations, always with our expert advice.
Our team will take care of the renovation from beginning to end. You will have a project manager who will be in contact with you at all times, to ensure the results are as you expect, at the agreed times.

Leave everything in our hands and enjoy the final result.

It's time to enjoy your new home! Now you can create new moments and memories.
Process for Renovating your Home
We have professional experts in full home renovations in Mallorca who are continually improving their skills. Klausworks is passionate about our work: renovating your space to give it a new life aesthetically and functionally.
Our goal is always to make the best of every part of your home or business premises so you can enjoy a unique space.
We specialise in building work and renovation, turnkey projects, and design and construction of swimming pools in Mallorca. From bathroom makeovers to full home renovations.
We make every project an easy, comfortable experience for our clients, because we see our work as a way to improve their quality of life. That's why we always commit to the contract and plan ahead for any contingency. We adapt to your tastes and your budget so we can offer you results that exceed your expectations.
We add value to your space through design and interior décor. We carry out fully personalised home renovations, taking all your ideas into account. We have years of experience in all types of building work and renovations, and we work with you on each stage of the project.
It doesn't matter whether you are planning to renovate a kitchen, a bathroom, or an office. You can always rely on our experience and versatility.
Le compramos un piso a una familia de una herencia que estaba muy bien pero luego resulto que no estaba tan bien. Las tuberias y la luz que no se vería estaban fatal y a la vez que las cambiamos ya aprovechamos para poner las paredes lisas, parque en el suelo, los baños, la cocina, vamos un completo. Si lo sabemos antes, ese piso no lo compramos pero tuvo muy buena solución y hemos recuperado la tranquilidad y gracias a vosotros.
Nos hicieron una reforma integral en Palma de Mallorca y todo muy bien, se encargaron de todo y con muy buen resultado.
Gente muy seria y trabajadora y muy cumplidora. Excelente resultado.